Weekly hike to our Mountain Cabin in Saalbach-Hinterglemm
Quaint mountain hut at 1700 m (roughly 5,600 feet) above sea level
Pure nature and recreation far away from the hustle and bustle of everyday life.
Indulge in the traditional life on a mountain farm as it used to be some 200 years ago. Live in perfect tune with nature and enjoy the truly unique ambiance on a high Alpine pasture. Romantic evenings at candlelight and the cozy warmth of a tiled stove...

Some 100 cows and calves and 10 horses spend the summer on the Alpine pasture. Hunting grounds are available as well and you can join the hunter on deerstalking tours. Overnight stays only on prior arrangement – Contact us for more detailed information about the transfer.

We organize a weekly hike to our high Alpine mountain hut in Saalbach-Hinterglemm!


---
Location:
Amid the stunning Alpine scenery of Saalbach-Hinterglemm. A wonderful base for unlimited walking and hiking for all levels and ages (peak tours to Geißstein, Schusterkogel and Hochtorsee, etc.) Great view of the surrounding Tauern mountain and the Großglockner peak. Unlimited rest and relaxation guaranteed!

Adventurous summer programme: cattle drive!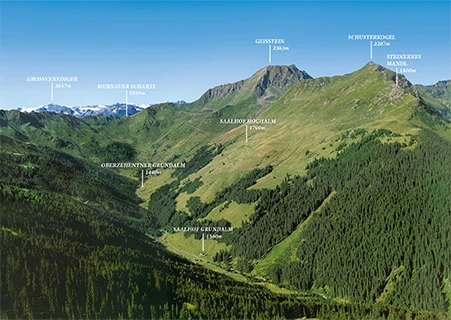 At least every three days we have to count the cattle on the Alpine pastures and feed them with salt – the only thing they do not find on Alpine pastures.
Sometimes the cattle has to be brought to new, lush green Alpine meadows. Our guests are warmly welcome to help us with the cattle drive.
If you want, you can rent our mountain hut from June till October. In winter the chalet is not accessible due to the masses of snow.



---