Apartment "Schwalbennest"
Apartment Schwalbennest for 3-5 persons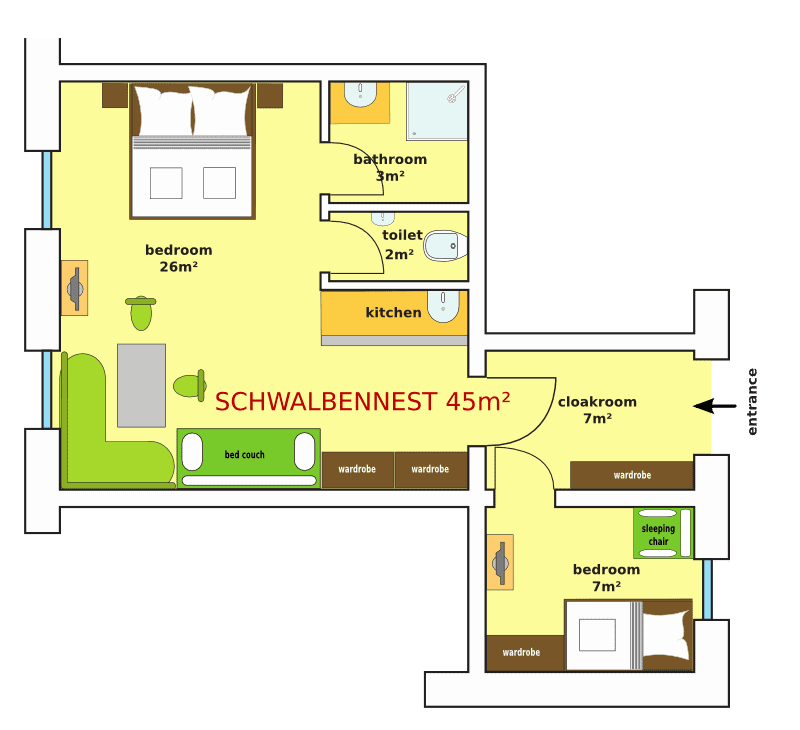 A bright, stylish and new apartment with beautiful view of the castle - equipped with natural materials and wood - made by hand by our carpenter:

The holiday home Schwalbennest features a tasteful combination of traditional and modern materials in the colors of lime green, earth brown and light gray. This gem is perfected by lots of solid wood, stylish Fiber C panels in the bathroom and toilet and modern, large-scale wall prints. This apartment offers the highest standard of comfort on the farm.
for 3-5 persons
on the 1st floor in the new building across from Castle Saalhof
Double room with sofa, sitting area, flat screen TV, blinds
kitchenette (includes dishwasher, microwave, oven, stove, fridge with freezer compartment, espresso machine, electric kettle, coffee maker)
separate children's room with single bed and pull-out sleeper chair, flatscreen TV and DVD-player
blackout blinds
separate toilet
Bath with shower, hairdryer, toilet articles, make-up mirror, shampoo and soap
wardrobe in entrance area,
WLAN, ca. 45m²
Our extra: Pillows filled with wood shavings from pine wood ensure a recreative sleep
We equipped all beds with new mattresses and cutting-edge point-elastic inserts.

Allergy information: We regularly perform a deep cleaning of our mattresses to remove dirt, sweat and the waste of the house dust mite. Additionally, after each change, the mattresses are disinfected and treated with natural essential oils.