Your hosts
The Rieder Family
Since we operate our farm as a family business, it is important to us that all family members help together - and not only in times of need. We set great store by the values of family.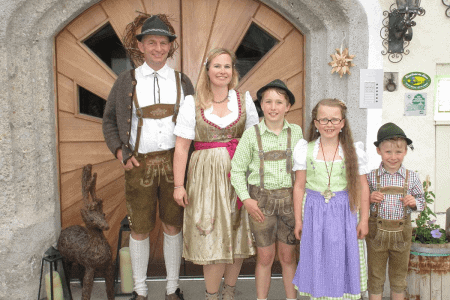 At the moment our family comprises 5 members: Your hosts Kathrin and Hermann with Sebastian (born 04/12/2011), Cäcilia (born 03/18/2009) and Leonhard (born 04/04/2007)! The right hand picture shows the children's grandparents Rosi and Wolfgang.

On April 16th, 2005 Kathrin and Hermann Rieder (the present farmers) married, here you can see a picture taken on this wonderful day.

Kathrin was born in Freising near Munich in Bavaria, studied Economics, Languages and Cultural Studies in Passau and has been living at the "Saalhof" since 2003. In 2004, Kathrin and Hermann took over the farm and since then have been managing the proceedings.

At present, Kathrin and Hermann live and work together with Hermann's parents, Rosi and Wolfgang.